About Raphael's live

| | |
| --- | --- |
| | Raphael ->Main page |

Jean Auguste Dominique Ingres

"Raphael and La Fornarina"

Study

Jean Auguste Dominique Ingres - Bio

Ingres paintingst:
Raphael never married, however in 1514 became engaged to Maria Bibbiena, Cardinal Medici Bibbiena's niece.
He wasn't terribly obsessed with this wedding. Maria in the end died in 1520 as a maiden.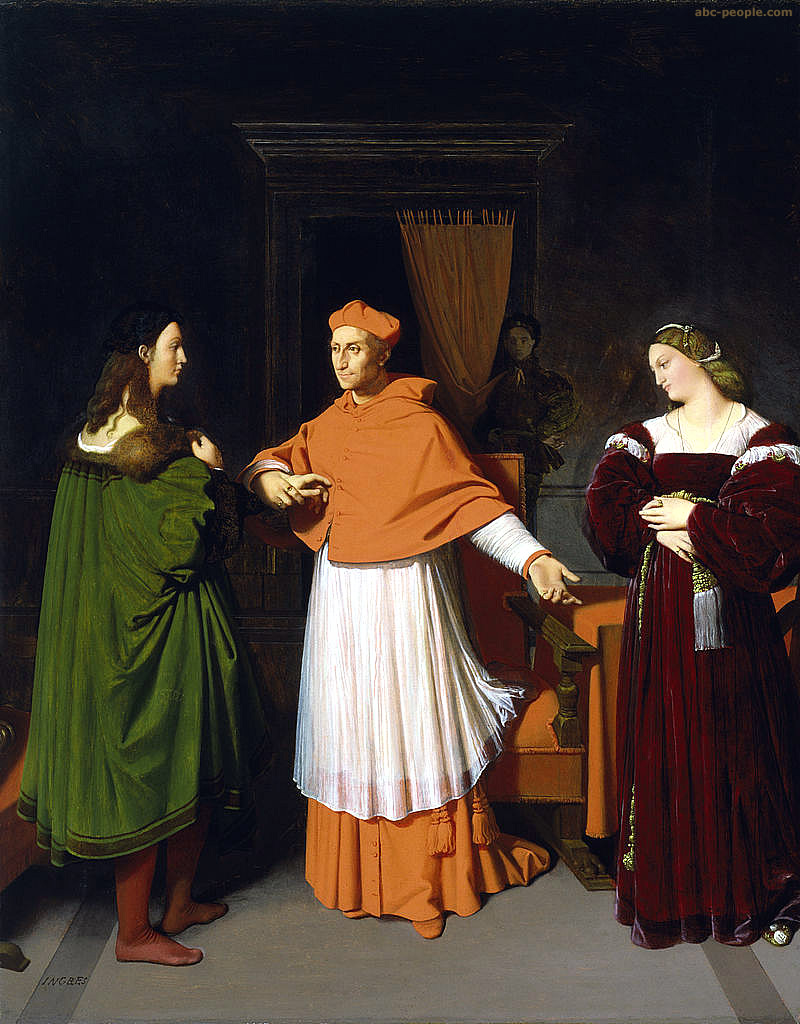 Jean Auguste Dominique Ingres (1780–1867)
The Betrothal of Raphael and the Niece of Cardinal Bibbiena
Oil on paper mounted on canvas, 1813-1814
Walters Art Museum, Baltimore
| | | |
| --- | --- | --- |
| | Cardinal Bernardo had a niece, Maria Bibbiena, who wanted to marry Raphael. The artist felt that he could not refuse, being placed in a difficult position due to the cardinal's enormous influence. Yet it presented him with a problem – because Raphael was already secretly in love with the daughter of a baker, Margherita Luti, a woman often referred to as La Fornarina (the (female) Baker). He accepted the role as Maria Bibbiena's fiance, but continually postponed the marriage, so that it had still not taken place when he died. | |
"Raphael and La Fornarina"
is a painting by Jean-Auguste-Dominique Ingres, known in five versions. The painting belongs to his troubador style period and shows Raphael and his first love, La Fornarina. Ingres originally planned to produce a series of paintings of episodes from Raphael's life, but he only produced two paintings - the other is that of cardinal Bibbiena offering to marry his niece to Raphael.
Versions:
- 1813, at Riga, disappeared in 1941
- 1814, Fogg Art Museum
- two other versions in private collections
- final version, Columbus Museum of Art

Ingres and the different paintings he made about Raphael and Fornarina. Raphael gradually takes on the features of Christ while observing his work, while the woman, whose gaze points to us, is more and more naked. The third shows the Transfiguration, one of Raphael's last paintings considered as his most important work.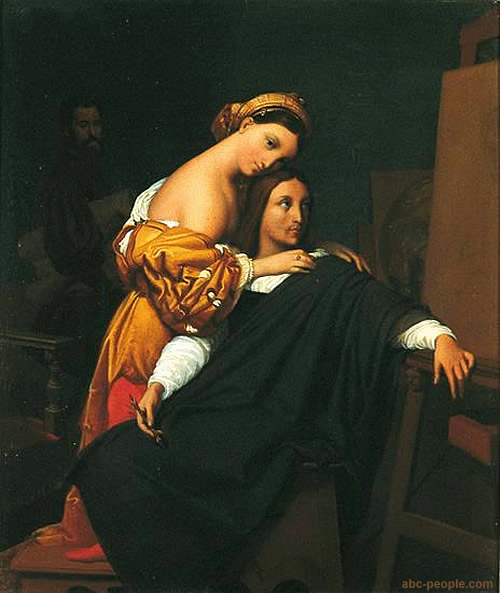 Jean Auguste Dominique Ingres
Raphael and La Fornarina
Oil on canvas c. 1827
Kettaneh Collection, New York
| | | |
| --- | --- | --- |
| | The French Neo-Classical master, Jean-Auguste-Dominique Ingres, who revered Raphael above all other painters, who made the most famous variations upon the theme of Raphael and his mistress. In one version, Margherita stands, embracing her lover, while Michelangelo lurks in the shadows. | |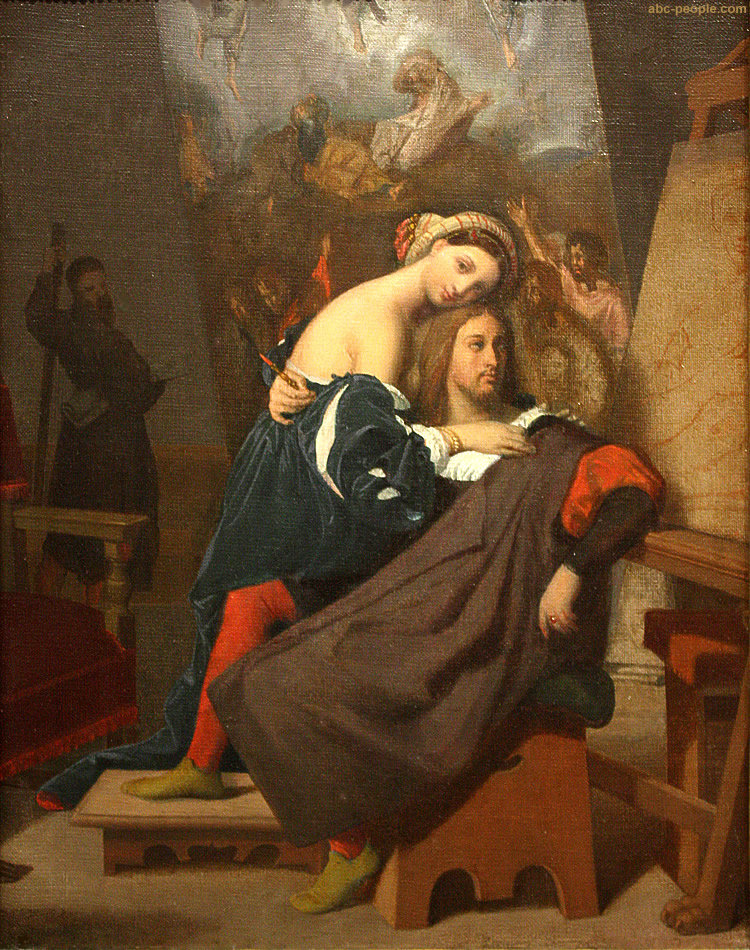 Jean-Auguste-Dominique Ingres
Raphael and the Baker's Daughter
Oil on canvas, 1840, 14 × 10.75 in (35.6 × 27.3 cm)
Columbus Museum of Art
| | | |
| --- | --- | --- |
| | In a this variation, Margherita appears to straddle Raphael's leg, her robe falling open, while again Michelangelo is seen in the shadows, beside Raphael's final masterpiece, The Transfiguration. | |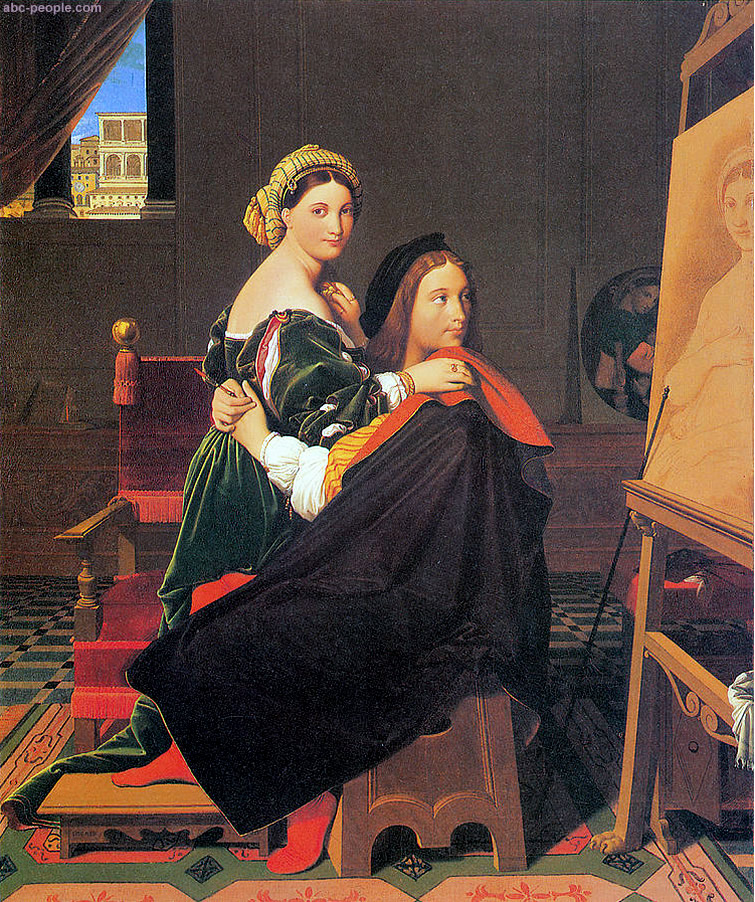 Jean Auguste Dominique Ingres
Raphael and the Fornarina
Oil on canvas, 1813-1814
Fogg Art Museum, Harvard University, Cambridge
| | | |
| --- | --- | --- |
| | In Ingres' final version, Margherita sits upon Raphael's lap. Her pose and her turban clearly allude to the "Madonna della seggiola", which can be seen in the background. On the easel, barely begun, is Raphael's painting, La Fornarina. In a manner suggestive of the myth of Pygmalion, the artist seems torn between Art and "reality". | |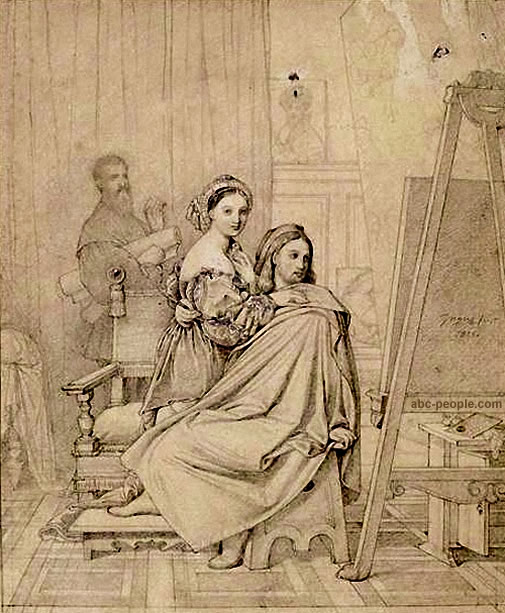 Jean Auguste Dominique Ingres
Study for "Raphael and the Fornarina"
(Raphaël et la Fornarina)
(sketch)
1825
Louvre Museum, Paris, Department of Graphic Arts
| | | |
| --- | --- | --- |
| | This beguiling drawing relates to "Raphael and La Fornarina", an issue Jean Auguste Dominique Ingres painted on many occasions. within the painting, Raphael seems within the studio together with his legendary mistress-model "La Fornarina" (the baker's daughter) sitting on his lap. Ingres, who greatly loved Raphael, appears to own had Raphael's love interest in mind at the terribly moment of his own prayer and wedding to Madeleine Chapelle. Madeleine has been known because the model for this study drawn from life. | |

Jean Auguste Dominique Ingres
Study for "Raphael and the Fornarina"
Graphite on white wove paper, ca. 1814
10 x 7 3/4 in. (25.4 x 19.7 cm)
Robert Lehman Collection

Jean Auguste Dominique Ingres

Self-Portrait

1804. Oil in canvas. Dimensions: 69.9 x 86.4 cm

Jean-Auguste-Dominique Ingres
29 August 1780 – 14 January 1867

was a French Neoclassical painter. Although he considered himself to be a painter of history in the tradition of Nicolas Poussin and Jacques-Louis David, by the end of his life it was Ingres's portraits, both painted and drawn, that were recognized as his greatest legacy.

Ingres was profoundly informed by past artistic traditions, and in his career assumed the role of a guardian of academic orthodoxy against the ascendant Romantic style, exemplified by Eugène Delacroix. His expressive distortions of form and space make him an important precursor of modern art, whose work influenced Picasso and Matisse and other modernists.

Born into a modest family in Montauban, he travelled to Paris to study in the studio of David. In 1802 he made his Salon debut, and won the Prix de Rome for his painting The Ambassadors of Agamemnon in the tent of Achilles. By the time he departed in 1806 for his residency in Rome, his style — revealing his close study of Italian and Flemish Renaissance masters was fully developed, and would change little for the rest of his life.

While working in Rome and subsequently Florence from 1806 to 1824, he regularly sent paintings to the Paris Salon, where they were faulted by critics who found his style bizarre and archaic. He received few commissions during this period for the history paintings he aspired to paint, but was able to support himself and his wife as a portrait painter and draughtsman.

He finally achieved a great Salon success in 1824 with his Raphaelesque painting of the Vow of Louis XIII, and became recognized as the leader of the Neoclassical school in France. Although commissions for history paintings freed him to paint fewer portraits, it was his portrait of Louis-François Bertin that gave him his next popular success in 1833.

The following year, his indignation at the harsh criticism of his ambitious composition The Martyrdom of Saint Symphorian caused him to return to Italy, where he assumed directorship of the French Academy in Rome in 1835. He returned to Paris for good in 1841. In his later years he painted new versions of many of his earlier compositions, a series of designs for stained glass windows, several important portraits of women, and The Turkish Bath, the last of his several Orientalist paintings of the female nude, which he finished at the age of 83.

Back to
Raphael-main page
Copyright © 2004 abc-people.com
Design and conception BeStudio © 2014-2017